Sofia kneels in the corner of the room, making herself as small as possible. Space, or the complete lack There of, is now the constant constraint in her life.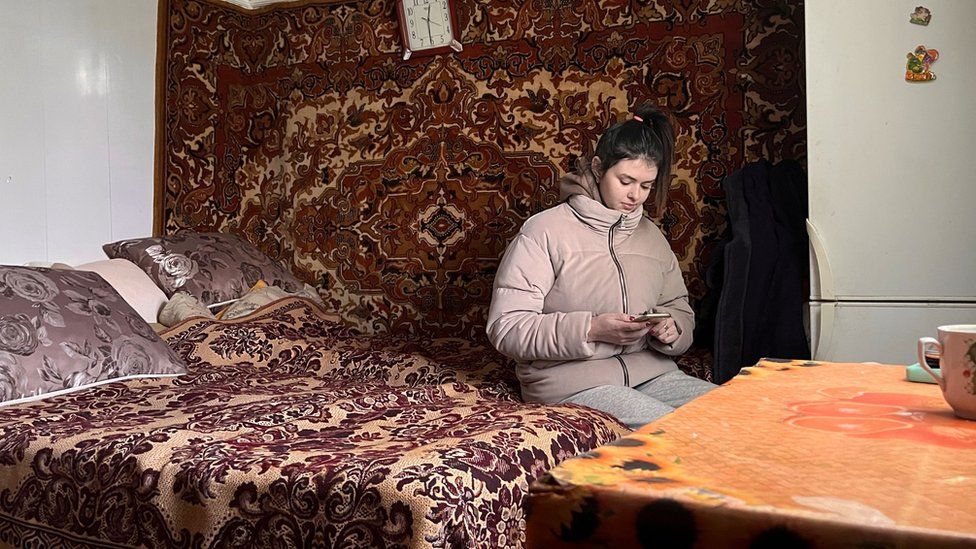 The 19-year-old is living in one single room with her boyfriend and his mother. Not only this, they're all sharing the same bed.
"I hate it," she says. "I just want some personal space."
Earlier this year, Sofia Prosyanyk ran away from Mariupol; the city besieged and eventually captured by Russia in May.
She met her current boyfriend Yaroslav Moiseenko at an evacuation centre, before coming to live with him and his mother Nadiia in the village of Kalynivka, west of the capital Kyiv.
But Yaroslav and Nadiia returned to find out their own home is in ruins, destroyed during the failed Russian march on Kyiv at the start of the war.
Now they all live in an out-house that used to be the family's "summer kitchen".
The floorspace in the room can be crossed in just three strides. The bed and a fridge are on one side while a stove sits right by the door.
In between is a stool which they sit on for when they wash. Sixty-three-year-old Nadiia shows me how they lay down a plastic sheet to stop the floor getting wet.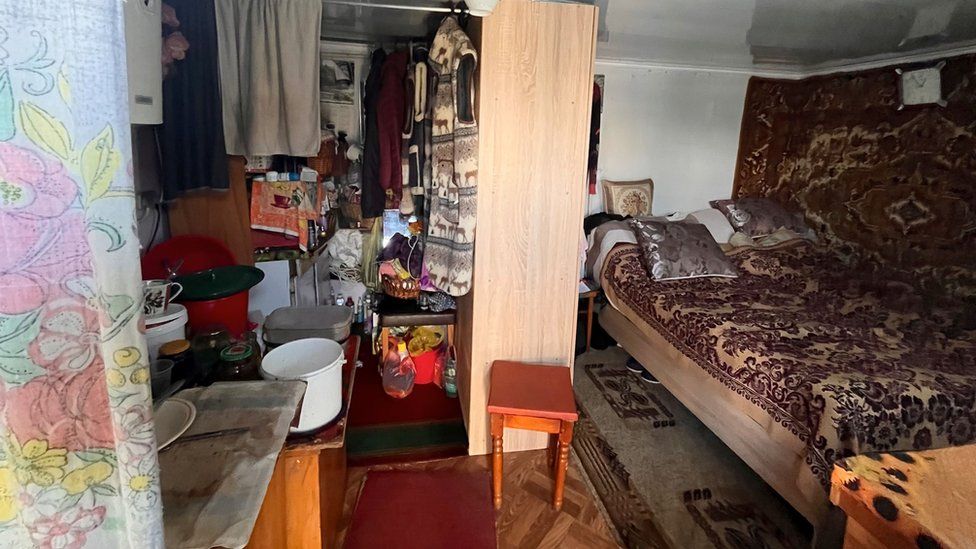 They say that what's even worse is that sometimes they have to go to the toilet in here because it might get cold to use the outdoor bathroom.
"I hate to do that in front of everyone," Sofia says.
She only feels "normal" when she's at work at a local petrol station, where's there's a proper toilet and power.
While we talk the lights go out which, she says, happens all the time. Millions of Ukrainians have been experiencing power cuts after repeated Russian strikes on the country's energy grid.
Nadiia says they use torches and candles but it's the suffocating lack of space that is the hardest thing for this family. At least in the summer they could open the door, but now it's far too cold to do so.
For Nadiia, the remains of her old house are right next door.
We crunch through the snow which covers the foundations of what used to be the ground floor rooms that made up her former home before the war.
Her family had started building it when she was just 14 years old and to see it all reduced to rubble.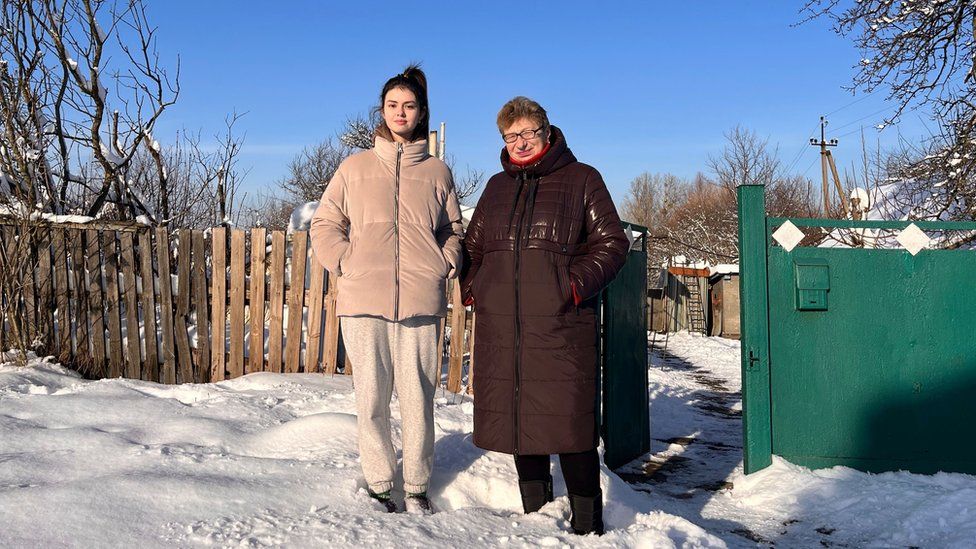 Now about to turn 64, Nadiia describes herself as "homeless" and cries as she explains how hard it is for her to let go of her memories when they lie, right there, in the rubble.
"When I want to go and take something, I keep remembering where all the things were in my old house," she says.
"There was a closet near the wall. Now when I want to take something from there, I catch myself thinking – there is nothing there anymore," she says.
Coming home after the Russians had left their village, Kalynivka west of Kyiv, should have been a joy for Nadiia but instead it's a source of constant grief and sorrow.
They hope that soon, via a charity called Nest, they will get a pre-fabricated house where Sofia could live with Yaroslav, while Nadiia would stay in the out-building for now.
We trundle along snow-covered tracks to another part of a village where men are busy putting up one of those pre-fabricated homes for 64-year-old Inna and her son.
She comes out to greet us but almost immediately bursts into tears, recalling those early weeks of the war (SAD).
"Everything was on fire," she tells me. "Shells flew right above our heads." she says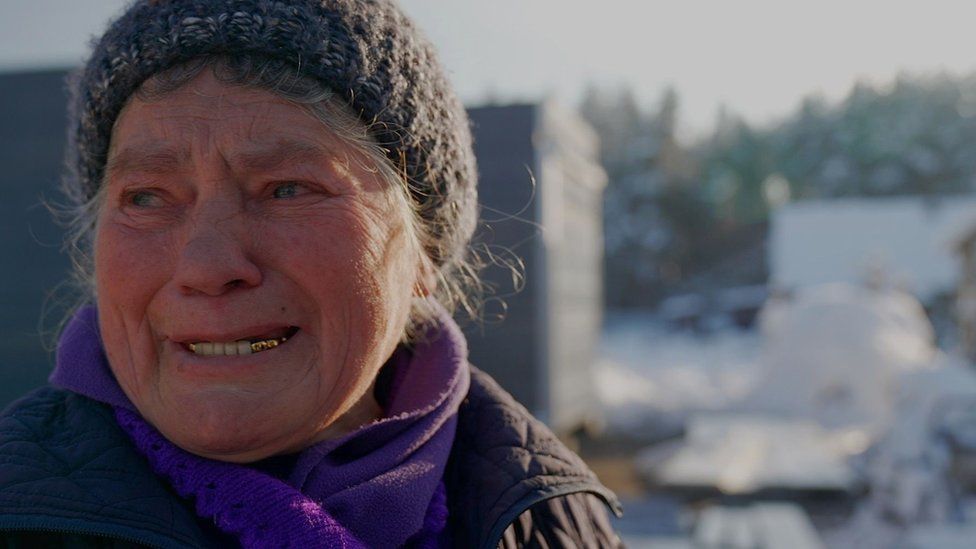 They left their home in March and returned in May, building a make-shift place to live on the site of where their old house stood.
We go inside and it's clear why Inna's case has been prioritised for a pre-fab home as soon as possible.
The roof, such as it is, drips constantly onto a wet and dirty floor, while the kitchen is freezing cold. Inna often wrings her hands because of the constant pain of her swollen joints.
We crouch through another door into a dark back room and suddenly, it's extremely hot.
Socks and clothes hang from a washing line along the ceiling.
At least it's warm in this part of the hastily-constructed home, but it's an unhealthy and oppressive heat coming from an old wood-burning stove.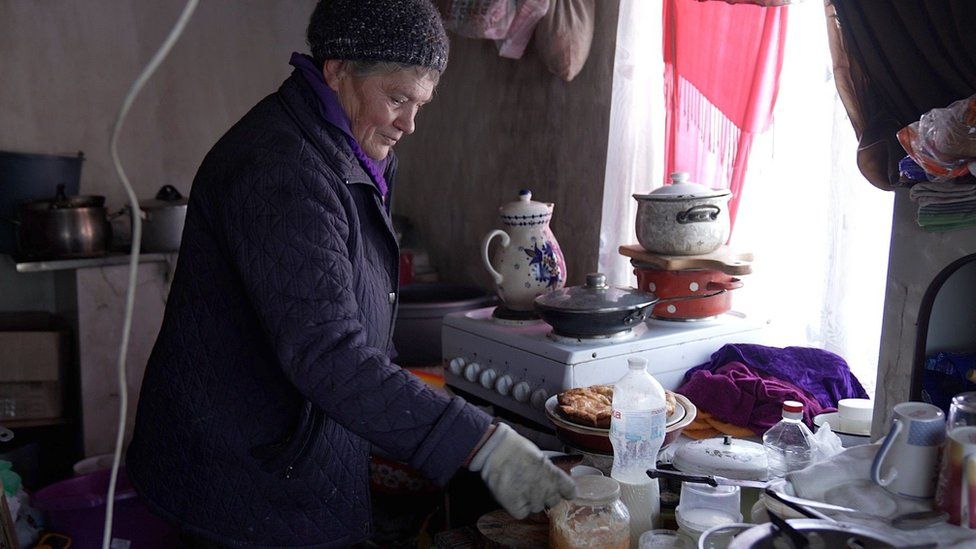 The whole situation is taking a real toll on Inna's health but she expresses a resilience that you hear from so many in Ukraine.
"We will get through everything," she says.
Her hope is that Ukraine can win the war, "as soon as possible".
"So that there is peace and tranquillity. So that all soldiers return home alive and well. This is the main thing. The lack of light is not scary, we will survive."
Stay tuned to goprisco for more news updates